STAY TRUE TO YOURSELF
FIND OUT WHATS REALLY IMPORTANT TO YOU


FASHION
ART & ARTISTS
SUSTAINABILITY
PEOPLE AROUND THE WORLD

WITH VARADISE WE REALIZE OUR DREAM: WE WANTED TO FIND OUT IF AND HOW WE CAN CONNECT THE THINGS WE CARE ABOUT.

WE TRY TO BE AS SUSTAINABLE AS POSSIBLE AT THIS POINT OF THE PROCESS.

WE WANT TO CREATE OUR OWN WORLD - ARE YOU READY TO BE A PART OF IT ?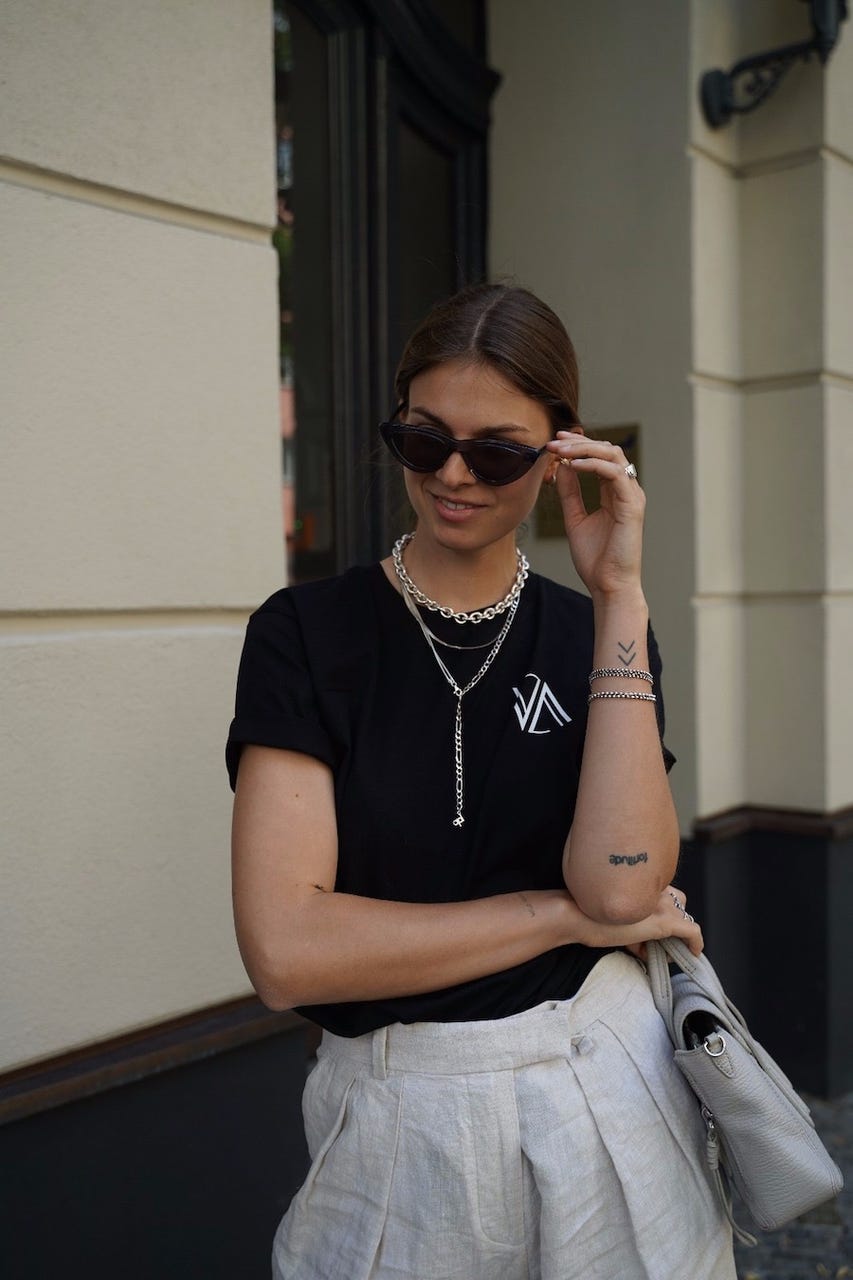 BE PART OF THE SOLUTION
Sustainability is not a trend - it's a daily attitude with a lot of responsibility.
This sustainable approach to life is based on a set of principles which request a change in thinking and action. We know this is a process - so every small step to a concious and environmentally friendly life counts.
Varadise wants to encourage the sustainable lifestyle.



Nachhaltigkeit
VARADISE Shirts sind aus 100% Biobaumwolle hergestellt und sind GOTS zertifiziert, das bedeutet, dass während des gesamten Prozesses vom Anbau bis zur Produktion keine bedenklichen Chemikalien, Schadstoffe oder Pestizide verwendet werden. Ausserdem sind sie ohne tierische Bestandteile und Tierversuche produziert und mit dem Peta-Approved Vegan Label gekennzeichnet, es steht für ethische Produktionsweisen. Die Fabriken werden von der Fair Wear Foundation unabghängig kontrolliert, damit garantieren wir faire, sichere und gesunde Arbeitsbedingungen und einen existenzsichernden Lohn.
Der Siebdruck erfolgt in Deutschland mit 100% umweltverträglichen und ökologisch abbaubaren Ökotex100 zertifizierten Farben und Öko-Strom.
Der Versand erfolgt großteils in umweltfreundlichen Kartons aus Graspapier (35%) und Altpapier (65%). Das Material wird sowohl regional gewonnen, als auch im regionalen Werk für Kartonagen verarbeitet. Es wurde kein einziger Baum für die Herstellung angerührt!
Da wir von unseren Lieferanten etliche Kartons erhalten, verwenden wir aber auch gebrauchte Kartons ganz nach dem Motto: "Imperfect but reused".
Ausserdem verzichten wir darauf die Kleidung zusätzlich in Plastik einzupacken, um unseren Plastikverbrauch so gering wie möglich zu halten. Auch das verwendete Papierpackband ist ökologisch, umweltfreundlich und nachhaltig.
Die Sicherung um die Kleidung besteht aus einer Plombe und einer Naturfaser-Schnur aus Hanf.
All unsere Flyer, Sticker, Packseide und Co. sind so nachhaltig und vegan produziert wie es uns möglich ist.
Sustainability
VARADISE Shirts are manufactured using 100 % biologically grown cotton and thus are labeled with a GOTS certificate. From field to loom there is no use of dangerous chemicals, pollutants or pesticides. The Peta-Approved-Vegan Label on all our shirts guarantee that absence of any animal derived components and that nowhere in the production process animal testing was used. We also focus on production processes that are based on ethical fairness. Therefore our manufacturers are independently controlled by the Fair Wear Foundation, which guarantees fair, safe and healthy working conditions as well as a sustainable income for the factory workers.
Screen printing on VARADISE shirts is made in Germany using 100 % ecological and environment friendly ÖKOTEX 100 colors. The machines are powered using only green, renewable energy sources.
VARADISE Shirts are shipped in environmental friendly cartons made of 35 % Grasspaper and 65% recycled paper. This material originates from the local recycling process and is produced in Germany. Not one tree will be harmed for our packaging material!
We actually reuse the cartons we receive from our suppliers following the idea of 'imperfect but reused'. We also use wrapping paper band that is ecological, environment friendly and sustainable.
We do not wrap our clothes in extra plastic envelopes in order to keep the use of plastic at a minimum. The security tag is made out of a seal and the ribbon which is a cord from hemp.
All our flyers, stickers wrapping silk and Co. are sustainably produced and vegan - where possible.